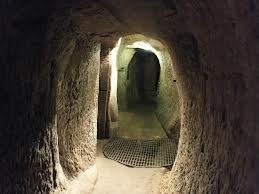 Gilmerton Cove is a series of hand carved passageways and chambers that lie below ground to the south of Gilmerton crossroads.
After five years of work by Gilmerton Heritage Trust and The City of Edinburgh Council to restore and preserve it for future generations, it opened in August 2003, providing visitors of all ages with an educational and fun experience.
The entrance to Gilmerton Cove is through a visitor centre adapted from a traditional mining cottage.
This cottage now houses imaginative audio and visual displays that depict the various theories behind the origins of Gilmerton Cove which, after extensive archaeological and historical research, still remain a mystery.
These include theories that it was the unique work of an 18th century local blacksmith George Paterson, a drinking den for gentry, a refuge for persecuted Covenanters and a smugglers lair.
____________________________________________________________________________
Address
Gilmerton Cove
16 Drum Street
Gilmerton
Edinburgh
EH17 8QH
Website: http://www.gilmertoncove.org.uk
Twitter: https://twitter.com/GilmertonCove
Facebook: https://www.facebook.com/GimertonCove
See attraction's website for current prices and opening hours.